UVPLASTIC is the industry leader for polycarbonate sheets in Suzhou, China (convenient transport to the port of Shanghai). UVPLASTIC 2003 was founded with a capital of 12 million RMB and extends over an area of 10000+ square meters. After years of continuous efforts, the company has grown to be a leading supplier of polycarbonate sheet, light diffuser panel, acrylic sheet, clear corrugated roofing, plastic fabrication service, and OEM & ODM service.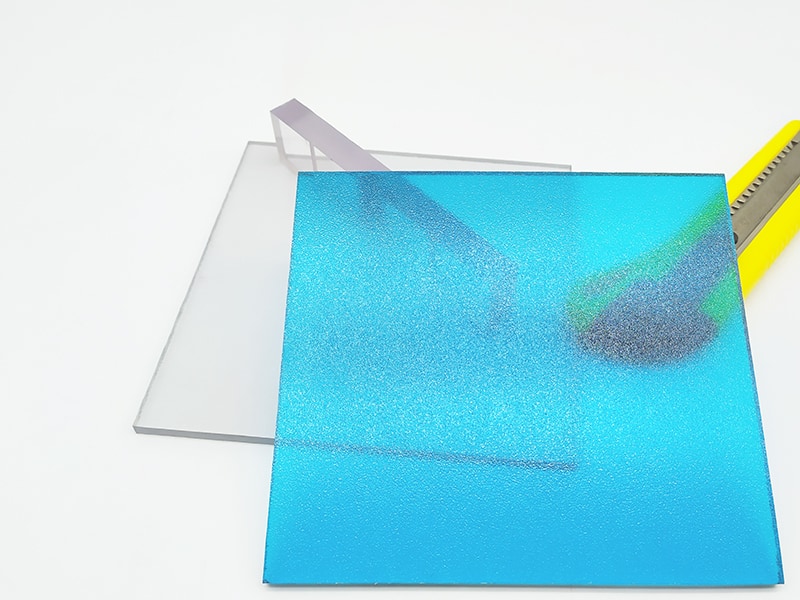 Frosted polycarbonate sheet is a coloured, two-sided satin acrylic glass plate with matt surface. The reflective material acts optically as sandblasted. Saturated acrylic glass in white is also known as milk glass and is available from the UVPLASTIC brand among others.
The coloured versions impress with their powerful and vibrant colours. Depending on the product, the satin plates are light-permeable, ranging from 0% in black acrylic glass from UVPLASTIC to 88% in white acrylic glass. All records are considered to be visual. Objects behind the plates can be detected in outlines or in a diagram. UVPLASTIC offers a 10-year warranty on its products, even for the outdoor sector.
OEM/ODM for Inspirations without Borders
We provide a special service with our powerful OEM & ODM Services. This allows you to tailor the frosted plastic sheets to your specific needs. In addition to the standard forms such as rectangle, square and circle, you have a number of other options available. The customized offers the following options:
Standard forms (if you have to go fast)

Interesting special shapes (stars, arrows, hearts, etc.)

Edge processing: lasers, milling, sawing

Determine radii for curve ranges or Surroundings

Text excerpts in the preferred font and size

Forms by choice
With the our OEM/ODM service, you can create exceptional unique ones. We produce exactly according to your specifications. Let your creativity run free. On our theme page you will find other products and valuable tips on plastic plates.
UVPLASTIC frosted polycarbonate sheet properties and advantages
Satinization spreads the falling light, creating a soft light. However, this effect occurs only in light-permeable variants. Exceptions are therefore the black, completely opaque plate and, limited to light, the white frosted polycarbonate

panel

with only 2% translucency.

The velvety surface gives a pleasantly fine feel. In contrast to smooth or shiny surfaces reduces

Uvplastic

frosted plastic sheets the visibility of fingerprints and light contamination.

The frosted plastic sheets offered here are exclusively cast quality acrylic polycarbonate(

PC

), which shows significantly less tension and cracks due to production than extruded

panels

. This has a particularly beneficial effect on further processing.

F

rosted plastic sheets is extremely resistant to UV rays and weather influences. It does not yellow and is very durable due to its high fracture resistance. Saturated acrylic glass weighs significantly less than conventional glass
FAQ
Q: How to select suitable PC sheets?
A: If you are not sure what type of sheet you need, you can tell us about your application. We recommend the appropriate printed sheets and give you more product information.
Q: Is there a UV layer on the coated polycarbonate plate?
A: We can produce PC plates with (0/1/2) lateral (50-80) m m Coextrusion UV layer. Usually there is a 50-millimeter UV layer on the hollow plate and no UV layer on the full plate.
Q: What is moq?
A: A 20-foot container for PC hollow sheets; 3 tons for PC solid plates.
Q: What is the price of the matte polycarbonate plate?
A: There are many factors that influence the price. Please let us know the model number, thickness, size, colour, UV layer, quantity and other requirements, we will give you our best price.
Q: can you make custom PC sheets?
A: Yes. If there are no sheets or profiles available that you need, you can send us your project details, we will review them and quote them to you.
Q: How can I contact UVPLASTIC?
A: You can contact us directly via visit our official website: www.uvplastic.com