We are a plumbing business operating in the San Diego Metropolitan area. We offer all types of plumbing repair out-calls including toilet repair, burst pipes, sewage and drainage problems and more.
These days, it's no longer easy to find a reliable emergency local plumber. You have different requirements that ought to be fulfilled, in order for you to definitely consider hiring a plumber. They include typical points like trustworthiness, reliability, as well as more quantitative considerations that indicate the standard of a plumbing service provider, like reviews and the professional experience of a plumbing contractor in many years. Fortunately, JL Emergency Plumbing fulfills all these recommendations.
Our Cheap Plumbers in Chula Vista & San Diego Video
Operation Areas
JL Emergency Plumbing operates in a number of areas in and around San Diego. Our base is in Southern San Diego (Chula Vista) but we operate across all areas of the San Diego metropolitan area, South Bay, Rancho, Penasquitos, Del Mar, Downtown, Lemon Grove, Solana Beach, El Cajon, Hillcrest, La Jolla, Lakeside, Santee, Poway, National City, La Mesa, and more.
Operation Hours
We operate on a 24-Hour out-call basis. We customarily operate all through the holidays, however in case we are closed for some valid reason, the special hours will end up being detailed on our very own Google Business Page. Otherwise, our regular operating hours are as follows: Monday: 12:00 am - 12:00 pm (24 Hours); Tuesday: 12:00 am - 12:00 pm (24 Hours); Wednesday: 12:00 am - 12:00 pm (24 Hours); Thursday: 12:00 am - 12:00 pm (24 Hours); Friday: 12:00 am - 12:00 pm (24 Hours); Saturday: 12:00 am - 12:00 pm (24 Hours); Sunday: 12:00 am - 12:00 pm (24 Hours)
Our Philosophy
We pride ourselves in providing a superior of service at a cheap price. Our customers shouldn't be detered by the fact that we can offer such low prices - we can offer such low prices because we're just that good. Our plumbers are highly trained and vetted before they're allowed to join our team. We need plumbers that can work quickly without compromising on quality.
Plumbing Expertise
Common plumbing repair issues that JL Emergency Plumbing is trained to handle and frequently has to deal with during outcalls include sewer line inspection, toilet valve problems, leaky faucet repair, sewer repair and maintenance, burst pipes, heating system installation and maintenance, broken or cracked drains, water filtration system management, low water pressure issues, toilet repair, boiler repair, blocked drains, HVAC, trenchless sewer repair, air conditioning repair services, bathroom plumbing, and more!
5 Common Plumbing Problems We Get
Some of the problems that a good plumber will be able to address include the following: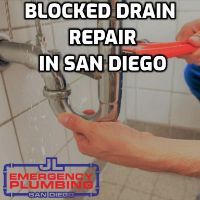 1. Clogged Drains
Stopped up p-traps are a popular problem that we encounter a lot during emergency outcalls. There are a
more exotic objects that can get lodged down the drain. Usually, the best solution to this is just to remove the debris. If the material is lodged in too deep, then using a piston can to push the sediment out can be a valuable solution.
One thing you should never do however, is use heavy chemicals or home remedies to try and unblock the sink. Ideally, unless you have plumbing experience, these are things you wouldn't want to attempt on your own because you can run the risk of making the issue worse.
If you don't have experience, then it's best to call JL Emergency Plumbing if you have a clogged drainpipe.number of factors that can contribute to or lead to a clogged pipe, such as hair, hardened soap and fatty deposits, as well as
Check out our blocked drain repair page here: ---> https://emergencyplumber-san-diego.com/slow-draining-blocked-sinks/
2. Burst Pipes
Burst pipes are yet another frequent problem. Ruptured pipes can occur for a
range of reasons including heat expansions or perhaps high-pressure that can lead to tears within the pipes that can expand with time.
Particularly in the South of California, where the weather is actually hot, badly made pipes that aren't built with expansion brackets and/or are made from low-cost materials can burst or perhaps snap as a consequence of the heat.
The first thing you should do in the event that you have a broken pipe is to shut down the water valve so that the pipe is prevented from additional damages. This is especially important if the pipe carries waste material since leaking sewage can often be hazardous to deal with.
Check out our burst pipes page here: ---> https://emergencyplumber-san-diego.com/burst-pipes-san-diego/
3. Dripping Faucets
A 'leaky tap' or faucet that is dripping is another common problem that plumbers regularly have to deal with. Some conditions that are common that can cause a faucet to leak are: Corroded Valve Seats – the valve seat is the link between the spout and the rest of your tap. Valve seatscan often corrode from hard water and other chemicals if not taken care of. O-ring problems – the o-ring is affixed towards the stem screw of a tap, which often holds up the handle of the faucet in place. A worn-out o-ring can cause a faucet that is leaky. Washer issues – improper installation regarding the washer or putting on regarding the washer after each and every time the tap is open. A worn out washer can be simply replaced by the plumber that is right. Dripping faucets can be annoying and can cause a build-up that is slow of water bills. To place this into context, imagine you do have a tap that is leaky drips at a typical rate of 60 drips per minute. That's 2082 tons each year! Add to that the fact that San Diego gets the highest costs of water in California at over $80 a month!
Check out our leaky faucets service page here: https://emergencyplumber-san-diego.com/leaky-faucets/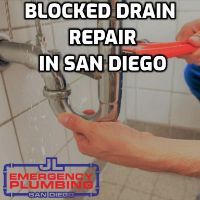 4. Broken Drains
Broken drains are a problem that is comparable burst pipelines, however they might be harder to detect as they aren't so obvious. With a broken pipe, often you know because the air conditioning equipment or heating system work that is wont. Nonetheless, the intent behind drains are slightly different as they carry away waste water from your sinks. A drain that is broken cause a variety of issues including corrosion, seepage and pollution of the soil and groundwater around your house. Common signs you may have drain that is broken foul or rotting smells and damp spots and cracks in and around your wall – particularly around your drains.
Check out our drain & sink repair services page here: https://emergencyplumber-san-diego.com/slow-draining-blocked-sinks/
5.Toilet Issues
This is certainly one of the most conditions that we as emergency plumbers commonly encounter in the San Diego area. Many other plumbing issues can be put off to a later date, but an overflowing lavatory is somethng hard to ignore! You've tried the plunger and it hasn't worked. What now? The best thing to do would be to call an emergency plumbing service.
However, clogged toilets aren't the only source of toilet-related plumbing problems. Your toilet might be experiencing one of the following: Running Toilet – this is often the result of problems with the fill or valves that are flush a toilet Toilet making noise that is abnormal this may be because of ghost flushing, water resonance or fill valve problems again Toilet flush– that is weak is often the results of a build up of difficult water deposits.
Check out our toilet repair services page: ---> https://emergencyplumber-san-diego.com/toilet-plumbing/
24 Hour Emergency Plumbing Services in San Diego
Getting a emergency that is 24-hour in hillcrest is never easy. Good plumbers in San Diego offer emergency that is multiple around the clock, irrespective of time or weather. Some of these ongoing services include the following: Whilst not all plumbing problems are severe dilemmas in need of immediate fixing, numerous outcalls plumbers get often relate genuinely to emergency issues.
The worst issues that need to be fixed are often the result of acute issues like broken pipes or clogged toilets that should be fixed immediately – not chronic problems that build as time passes like weakening toilet flushes or build-up or water that is hard in drain pipes.
Preventative Plumbing
Often if these problems are the result of chronic build up of issues in the long run, the problems are often ignored up till the point they become acute and begin dilemmas that are causing.
A weakening toilet flush for example may get to a eventually point where it can no longer flush. Or debris build-up in a slow-draining sink may clog the drain eventually. In either full case, emergency plumbing system services in hillcrest can help.
Qualified plumbers are trained to handle both chronic and plumbing system that is acute. An experienced emergency plumber in San Diego also be able to diagnose potential problems in the future and forewarn you of these issues that you can't ignore any longer so it is possible to sort them out before having them turn into severe issues!
Our Social Media Pages
Facebook: https://www.facebook.com/PlumberDiego
Twitter: https://twitter.com/PlumberDiego
Instagram:https://www.instagram.com/plumberdiego/
Youtube: https://www.youtube.com/channel/UCCSZjD3tXds8kC8ICXPPnwQ
Linkedin: https://www.linkedin.com/company/plumberdiego